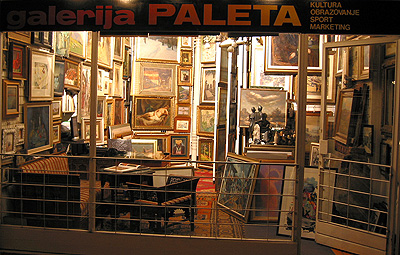 50 years of tradition and experience in the field of culture
Paleta is a renowned Sarajevo gallery with longstanding tradition. The Gallery features regular sale selection, permanent exhibition of Bosnian classics and rich collection of high quality artwork by prestigious local and regional artists.
Since opening our gallery has organized close to five hundred different cultural events. During the war (1992-1995), Paleta contributed significantly to the cultural life of Sarajevo and Bosnia-Herzegovina by organizing over one hundred exhibitions. For this and other accomplishments Paleta received numerous awards and acknowledgements.
Paleta's activities include sale, commissioned sale, acquisition, restoration and appraisal of artwork as well as organization of exhibitions and other cultural events.
The success of Gallery Paleta is certainly a result of our extensive experience, dedicated work, great enthusiasm for art and close collaboration with number of associates from the field of fine arts and culture.
We are happy to present a selection of paintings from Paleta's diverse collection...